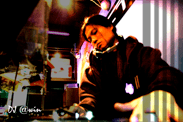 Edwin has been DJ-ing for over a decade, and is known for his versatility in playing a variety of electronic dance music genres.

He has been engaged to perform at numerous venues, such as Rouge, EM Bar /Studio, The Living Room, Blu Jaz, Sunset Bay, Hideout, and Cocco Latte. His 'mix-tape' was also aired on radio station 91.3FM.

In 2012, he was invited to perform at a Breitling event that featured world-renowned actor, John Travolta.

Edwin is also the co-owner of E-TracX DJ Skool & Studios, and has been one of its main DJ instructors since 2003.

He has trained countless students from all over the world and of diverse backgrounds; most of whom have gone on to perform at events and venues, such as St James Power Station, Filter, Dempsey House, Gem, The Living Room, Blu Jaz, HOME Club, and Hideout. A few of his students have even set up their own music-related businesses both locally and overseas.